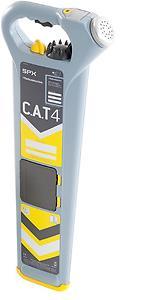 Reconditioned Radiodetection CAT4 cable avoidance tool
Find more buried utilities, faster - with the new gC.A.T.4 range of cable avoidance tools.
We currently  have stock of reconditioned Radiodetection CAT4 Cable Avoidnace Tools for sale at a great price. Each unit is supplied with a full twelve month Radiodetection calibration certificate issued by our authorized service centre and is backed up with a full three month warranty. 
Radiodetection CAT4 features as follows:
faster detection
C.A.T4 Avoidance Mode™ lets the operator check an intended excavation area for Power, Radio and Genny signals, and pinpoint located utilities in a single scan
bargraph 'tidemark' enables an operator to quickly spot a peak response and zero-in on a buried conductor
unique digital signal processing capabilities reject electrical interference
Dynamic Overload Protection allows operators to continue working in electrically challenging areas, such as near substations and under power cables, where other locators' detection circuitry may be overloaded and no longer function
control the sensitivity of each mode/signal, to pinpoint buried utilities in a single pass, Real Sound provides audio feedback derived directly from the utility locate.
high visibility display with backlight helps to minimise the possibility of misreading critical information from the unit, providing optimum visibility in all light conditions
compatible with the CAT3 and Genny3 range of accessories