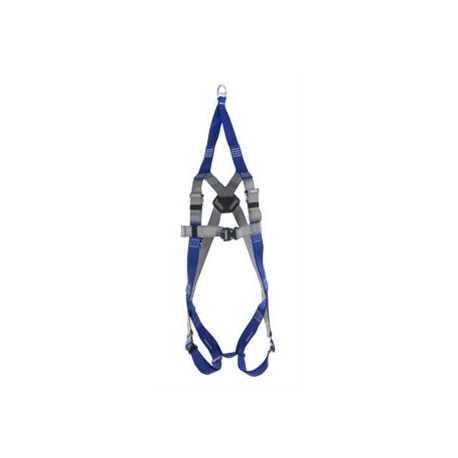 IKAR fall arrest rescue harness
Fall arrest harness / full body harness from IKAR with integral rescue attachment. 
single rear fall arrest attachment point, with overhead rescue attachment to EN361:2002 and EN1497:1996
45mm Webbing Fall Arrest Safety Harness with a single rear fall arrest 'D' ring attachment point and overhead rescue 'D' ring, with the leg loops, chest strap and shoulder straps all adjustable in length. The adjuster buckles on the legs and cheat are a 'quick release' type where one part of the buckle connects into the other and is released by depressing two side latches. On the shoulders there is a floating bar adjuster buckle so the length is adjusted through and up, so as to give maximum adjustment. Off the shoulder straps is fitted an overhead Rescue Attachment for confined space work.
This attachment can be used for lifting, lowering and dragging, plus it has been tested and is approved for fall arrest when attached to an EN360 Fall Arrest Device which is coming from above and there is no risk of a factored fall. Due to the adjustment capabilities of the harness is comes in one size and fits across all sizes. Elasticated loops are fitted to the shoulder strap and chest strap assemblies so the 'tail ends' can be retained neatly.