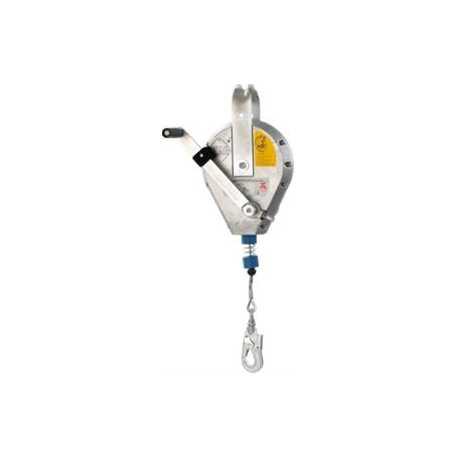 IKAR 12m fall arrest block
Fall arrest block with an integral recovery mechanism, 12m steelrope lifeline in an aluminium housing to EN360:2002 and EN1496. 
this aluminium housed fall arrest block is a sturdy, low maintenance device fitted with a steelrope lifeline, terminated with a steel double action hook. 
the attachment anchorage point on the fall arrest block is an open steel handle, suitable for connection via a Standard Karabiner type connector, or a Standard Karabiner type connector with an Anchorage Sling, or a Large Karabiner.
in addition to connecting the fall arrest block with recovery mechanism via the steel handle, it can also be used in conjunction with DB-A1 or DB-A2 aluminium tripods, to protect the user when ascending and descending a vertical shaft i.e. entry into a sewer system.
this fall arrest block also has a built in recovery mechanism, which is engaged by pulling a pin on the side of the block and engaging a winding handle.  This then allows the device to be used to lift or lower a casualty post fall, or if they have become incapacitated in a confined space.
the lifeline in this fall arrest block has been tested in a simulated fall over an edge and passed the German draft amendment EN360.  However, not all "edges" will react in the same way as the tested steel edge, so when using this fall arrest block, every effort must be made to ensure that in the event of an arrested fall, the lifeline does not pass over an edge.